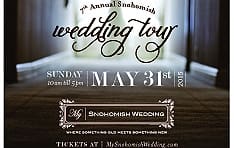 2015 Snohomish Wedding Tour
Have you ever been to the Snohomish Wedding Tour? Don't miss out on the most talked about wedding planning event of the year, this Sunday May 31st from 10am -5pm. With over 100 amazing vendors, including Grand Event Rentals, scattered over 21 of the most beautiful venues in Snohomish - you'll be sure to plan your event perfectly! Tickets are just $5/per person, for the self-guided tour and for more details visit: www.mysnohomishwedding.com to see the full venue map, vendor listings, photos and more!
Be sure to stop by Jardin del Sol Garden and Maroni Meadows (Snohomish wedding venues) to visit with our Grand Event Rentals staff, see our rentals in action, ask our design team questions and schedule complimentary consultations! We look forward to this event each year, it's a time where we begin the journey with our clients in planning their 'perfect' day! Visit our Facebook page for more details and to see live coverage of this event!
---