Edited original article May 2020 to include company updates:
A statement from the team at Grand Event Rentals, as we take the necessary and thoughtful steps to ensure the safety of our community and our team due to #covid_19…
Please note the following changes:
– Our showroom is now OPEN to the public, by appointment only! Please call or email us to schedule a time to visit our Bothell showroom; to browse our collections in person, to setup mock rentals for your event and discuss/plan events with our Event Team.
– Now Offering: Curbside customer orders! If you have a pickup/drop-off and prefer to use our curbside pickup, please call our office to schedule a time between the hours of 9am – 3pm – On your day/time, once you arrive, and we will bring your order to you!
– The office hours have been adjusted to: Monday – Friday, from 8am-4pm. (We will now be closed Saturday/Sundays, until further notice) and offering curbside pickup for customer orders from 9am – 3pm.
Grand Event Rentals  |  (425)462-7368  |  [email protected]
– We are taking the necessary steps to ensure the welfare of our employees and the sanitation of our warehouse locations and delivery vehicles.
While these mandated closures and event restrictions continue to change daily, our promise to you is that we will remain vigilant to ensure our team is available for the events that remain scheduled. Your celebrations are our upmost priority, despite the circumstances.
If you have any questions, please contact our team via phone or email. Our website offers a 24/7 quote-builder tool and we now offer "virtual" consultations with our team, as needed, to browse rentals or discuss options for your upcoming event (just call or email to coordinate)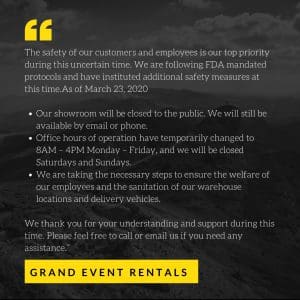 We wish you all good health and safety as we navigate these uncertain times, and WE THANK YOU for your continued support!
Your special moments are worth celebrating, we have you covered during this crisis and that is our commitment to you
– Sincerely, your GRAND team