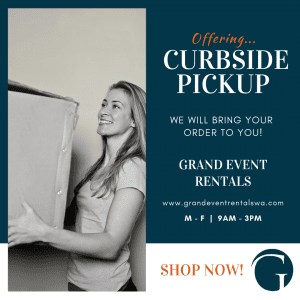 Planning for a social distance-style party, micro event or small gathering to celebrate something FUN this Summer?
Grand Event Rentals offers CURBSIDE pickup for any customer order, should you prefer not to enter our showroom for drop-off/pickups!
>> Shop online, call or email us to place an order.
>> Schedule your order pickup time, M-F 9am to 3pm.
>> Drive up and call us when you arrive!
It's that simple! We will bring your order to the car, or pickup your drop-off from the car when you arrive!
With the mandates and laws continuously changing, we put our customers, our team and the health of our community first. We continue to practice safe social distancing inside our showroom and detailed sanitization of our rentals, showroom and vehicles.
Grand Event Rentals
(425)462-7368 | [email protected] 
See our emailed flyer to learn more: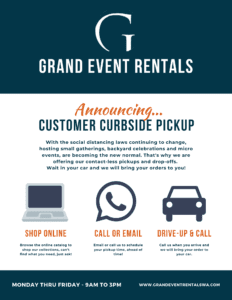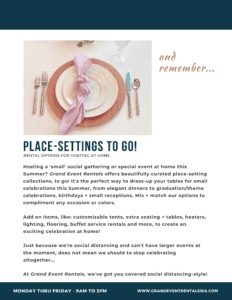 **Don't see what you're looking for online? Just ask! Our rental collections are expanding and not all is listed online