Designing, preparing rental selections, delivery & setup of rentals, pack-up and repeat! We LOVE what we do and providing rentals + decor for events and weddings is our job…BUT, what really gives us all the "feels" and LOVE for what we do, is when we can showcase our rentals at events around Washington!
Like, the My Snohomish Wedding Tour 2018 – Our rentals + decor were featured at several locations this year (yay!!) and not one design was the same! Which makes it more fun for us to browse through images and see what "can" be done with our rentals and that there is truly a design style for everyone!
We've started uploading the images from a few locations to our website gallery page (click here) and we can't wait to share them with all of YOU! Get your design inspiration from these unique settings, right here in Snohomish. There were so many beautiful venues this year, we can't really choose a favorite! BUT we can say… THIS, this is what wedding dreams are made from!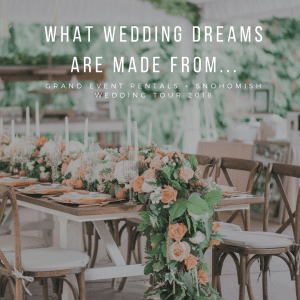 We look forward to working with you on your next big event or wedding, baby/bridal shower or corporate event – Choose to make every event GRAND!
THANK YOU to all the participating vendor teams that provided in put and design for each showcase – we couldn't do it without this amazing community and we are truly blessed for the opportunity to serve each of you!
**For full vendor credits, please visit our website gallery to browse the showcases individually